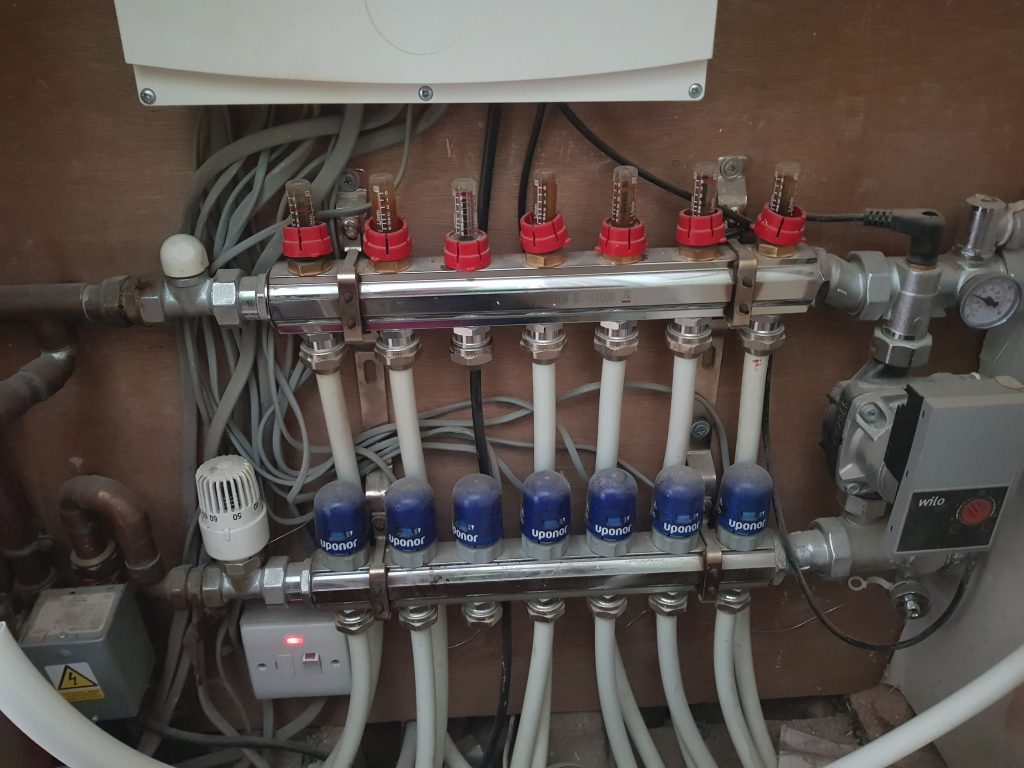 Underfloor heating
Underfloor heating has become a very popular source of heating over the last 20 years as radiators can look ugly and this is a more economic way to spread the heat all around the floor to heat up a room instead of just coming from one heat source on the wall.
Advantages:
Heat spread all around
cheaper to run after initial costs
Room stays warmer for longer when the heating is turned off
Separate heating zones
more efficient
improves home value
much neater
Disadvantages:
Expensive to install
Could get a leak if not properly installed
Head spread around the room
The pipework is embedded into the floor in loops, this can either be in cement, joists, screeds along a very wide surface area. The heat is spread around the room rather than coming from one single heat source like a radiator.
Cheaper to run
Once you have the heating up and running it only needs to run at 30 deg C to warm up the room where typically a radiator would have to run at around 70 degrees. They can also be run off their own thermostat meaning you can control temperatures easily as well.
Room stays warmer for longer
Once the heating is turned on the room heats up very quickly as the pipes cover a large area. Once the heating is tuned off the floor stays warmer for a lot longer. Also radiators cool down very quickly as soon as the heating is turned off.
Separate heating zones
The heating is controlled separately with a thermostat normally outside the room. A probe is either embedded into the floor or is left into the wall and plastered over. This senses the temperature of the room and tells the thermostat to turn on/off the heating accordingly.
More efficient
With the heating spread over large area and temperatures don't need to get as high it's much cheaper to run.
Value of home
With the high cost to install the product, because its economical to run will add value to your home.
Neater
With all the pipework hidden under the floor, it is far neater than having exposed pipework with a radiator. The only concept that you need is to put the manifold in a cupboard as you can see at the top of the page.
Summary
As you can see there are a lot advantages to having the underfloor heating installed in your home. It's very cost effective and economical for the environment.